Surgical Services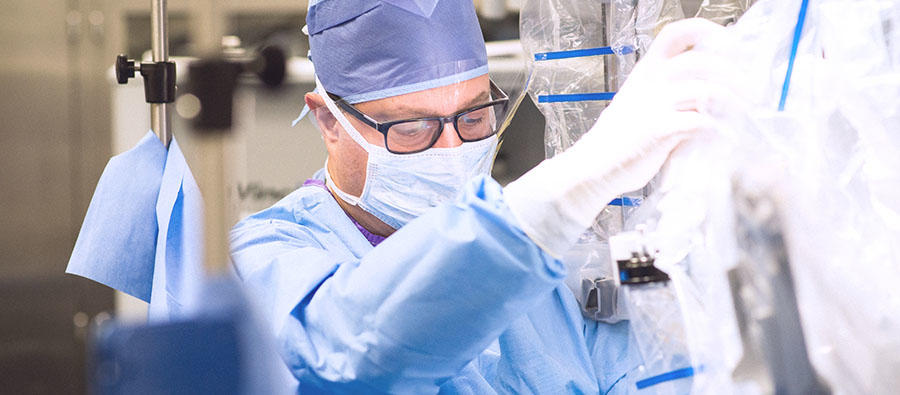 We are here to help you find what you need.
The highly-skilled surgeons on our medical staff are experienced in some of the most sophisticated operations available today, including advanced procedures for orthopedic joint and disc replacement, as well as the latest innovations in general and vascular surgery.
Certified Surgeons & Advanced Surgical Technology
Surgical Procedures Performed at Jordan Valley Medical Center
Cardiac
Colorectal
Cosmetic/Plastic
Ear/Nose/Throat
Gastroenterology
General
Gynecology
Obstetrics
Ophthalmology
Oral/Maxiofacial
Orthopedic
Ptolaryngology
Podiatry
Urology
Vascular
Do I Qualify For Outpatient Surgery?
Many operations can now be performed on an outpatient basis, meaning you have no overnight hospital stay so you can return to the comfort of your home on the same day as surgery. 
If you are scheduled for same-day surgery, you will receive a phone call the day before your procedure, instructing you to report to either the Jordan Valley Surgery Center or the hospital's patient admitting department. If you are reporting to the hospital's patient admitting department, you will go to the main entrance of the hospital. Patient admitting is located in the main lobby. You may park in the main patient parking area located by the main entrance of the hospital. Please bring your insurance card when you come to the hospital for pre-surgery testing. If you are unable to keep your appointment for surgery, please notify both your physician and the hospital as soon as possible. 
How to Prepare For Same Day Surgery
Guidelines to Help You Prepare for Your Trip to The Hospital
Wear comfortable, loose fitting clothes.
Leave all jewelry, money and other valuables at home or with your family.
Bring appropriate storage for personal items such as dentures, contact lenses, hearing aids, and prostheses. We will label these items and keep them in a safe place during your procedure.
Arrange for someone to pick you up after surgery. Due to the effects of anesthesia, you will be unable to drive yourself home.
We make every effort to begin your procedure at the scheduled time. However, emergency cases can affect the surgery schedule. We recommend that you bring a book or magazine to read just in case an emergency surgery creates a delay in your procedure.
Does Jordan Valley Offer Minimally Invasive Procedures?
Thanks to breakthroughs in medical technology, many surgical procedures that once involved major operations can now be performed through tiny incisions with instruments guided by sophisticated, miniature cameras. As a result, there is less surgical trauma so patients heal faster, experience much less scarring, and they can return more quickly to their normal activities.
daVinci Robotic Surgery System
In addition, we offer a number of advanced surgical capabilities for the treatment of cancer utilizing the state-of-the-art daVinci Robotic Surgery System.
The da Vinci System enhances surgical capabilities by enabling the performance of complex surgeries through tiny surgical openings. The System cannot be programmed nor can it make decisions on its own. The da Vinci System requires that every surgical maneuver be performed with direct input from your surgeon. The da Vinci Surgical System has been successfully used in thousands of prostate cancer procedures  worldwide. Benefits include:
Shorter hospital stay
Significantly less pain
Smaller incisions
Less blood loss
Faster recovery
Faster return to work and normal activities
In many cases, better clinical outcomes
Treatments Available Using The daVinci Robot
Hysterectomy
Myomectomy (for treating uterine fibroids)
Endometriosis Resection
Sacrocolpopexy (for treating uterine prolapse)
Prostatectomy
Cholecystectomy (gallbladder surgery)
Single Site
Infertility Treatment
Pelvic Mass
Ovarian Pathology
Transoral resection of tumors of the tonsil and base of tongue
Transoral resection of tumors of the larynx
Transoral resection of tumors of the parapharyngeal space
Transoral resection of tumors of the nasopharynx
Tongue base reduction for treatment of obstructive sleep apnea
Treatments for Heartburn
Because living with chronic heartburn can result in serious adverse consequences, it's important to have your symptoms evaluated. Patients throughout West Jordan have done this by scheduling a consultation with a surgeon (which does not mean that surgery will be your only treatment option). 
Outpatient Hernia Surgery
Hernia surgery is usually performed on an outpatient basis and patients return to normal activity relatively quickly. Major advances in recent years have revolutionized hernia repair, leading to smoother and faster recovery, minimizing recurrence, reducing post- repair pain and making treatment possible for hernias previously considered not repairable.
What is Balloon Sinuplasty™?
Balloon Sinuplasty™ Technology is an endoscopic, catheter-based system for patients suffering from sinusitis. This FDA-cleared technology uses a small, flexible, sinus balloon catheter to open up blocked sinus passageways, restoring normal sinus drainage. When the sinus balloon is inflated, it gently restructures and widens the walls of the passageway while maintaining the integrity of the sinus lining.