Pediatrics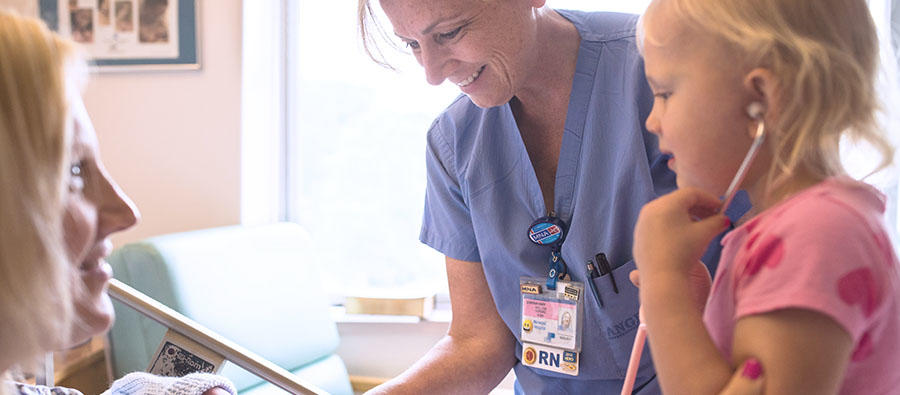 We are here to help you find what you need.
Our new nine-bed pediatric unit, staffed by physicians board-certified in pediatric care and nurses with extensive pediatric-specific credentials, makes it possible for your children to get the health care they need in their own neighborhood.
With completely private rooms (no double-bunking), patients have space for their families and receive the focused attention they deserve. Additionally, providers at Jordan Valley's Children Center work with your child's primary care physician to ensure a strong continuity of care. Additional features include:
Dedicated pediatric accredited sleep lab
Pediatric Centered Emergency Department
Bronchiolitis clinic (RSV)
CT Scan with the lowest dose of radiation in the state
Complimentary transportation from the emergency rooms at Mountain Point Medical Center and our West Valley Campus
We are proud to offer amenities that make your family's stay with us as pleasant and comfortable as possible. We aim to cater to the needs of every patient and family member by providing:
A play room with toys and video games
Age-specific video game carts delivered to children in their room
Rooming-in and complimentary meals
Slushie machine
Cleft Lips & Cleft Palates
Cleft lips occur in the first trimester of pregnancy. The reason is usually unknown and simply random. It occurs with a frequency of one out of 600-750 births. The probability is higher in families with members who have clefts.
Each cleft is unique in its appearance and severity. Consequently, each cleft lip and palate repair is different. The healing process varies from person to person as well.
Conditions
Apparent Life-Threatening Event
Cellulitis
Closed Head Injury / Concussion
Diabetes and DKA
Diarrhea and Dehydration
Fever
Fractures and Orthopedic Injuries
Infections
Jaundice (Hyperbilirubinemia)
Kidney Stones
Pneumonia (Uncomplicated)
Respiratory Illnesses: Asthma, Bronchiolitis, Croup, RSV
Seizures
Stomach Flu (Gastroenteritis)
Urinary Tract Infection (UTI)
Viral Infections
Treatments
Appendectomy
Facial Plastics (Cleft Lip/Palate, Animal Bite, Trauma)
Orthopedic Surgery
Tonsil & Adenoid Removal
Cleft Lips & Cleft Palates
Resources
When You Should Bring Your Child to the ER

Be able to identify emergency symptoms. Is he or she having difficulty breathing? Is your child disoriented? Does he or she have a cut that won't stop bleeding? These all warrant a trip to the ER as soon as possible.