Maternity Services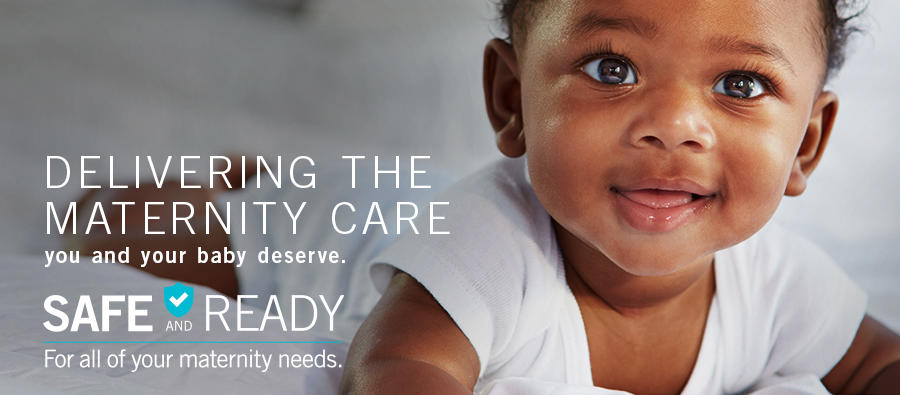 If you're expecting soon, you can expect world-class care and treatment from our safe and ready maternity program. We're here for you and your newborn through every step of the delivery process.
We're excited to announce the renovations of our Women's Center! 
A child's birth is a special experience. Our goal is to provide a comfortable, tranquil atmosphere for women and families to celebrate this joyous          occasion. The project, completed in two phases, will transform and modernize our Women's Center. The first phase involves our postpartum unit and started January 6, 2020. We are expected to complete the project Summer 2020.
Level III NICU
Our Level III NICU was created with family comfort and privacy concerns in mind. Located on the second floor of the hospital's Women's Center this nursery features 11 individual rooms; which is a departure from the more traditional open nursery environment where babies are clustered together. These private suites not only protect their tiny patients from outside stimuli, but also offer their families defined spaces they can call their own. Each of the rooms include sound absorbent ceilings and floor tiles, dimming lighting systems and sliding glass doors.
In addition to the peaceful ambiance, the NICU is equipped with advanced technology designed to offer up-to-the minute specialized care. Call lights that are directly connected to the babies' heart monitors and ventilators help provide immediate notification of changes in a baby's condition to the nursing staff. The central monitoring system and the built-in walkways between the rooms are also designed to allow for the medical staff to move quickly through the unit. Other technology highlights include special incubators that provide monitored heat and humidity, in-bed scales and Omni beds that allow the babies to be moved from the warmers to the isolets without physically disturbing the baby, and a medication guardrail system that ensures each baby is given the proper medication.
For the families, the unit provides a private room for breast pumping, a designated area for gowning and an in-unit restroom so parents can remain close to their babies at all times. One of the most unique features is the transition room that allows parents to "live in" with their babies who are still housed in the NICU. This process helps alleviate the fear and apprehension parents often experience before taking their babies home for the first time.
Experienced Maternity Staff & Certified OBGYNs
Labor, Delivery and Recovery
In order to make our patients feel welcome and comfortable, we've created a home-like women's center. Our spacious and private birthing suites are designed so mothers can labor, deliver, and recover in the same comfortable room. With an adjustable bed, jet tub and reclining sleeper for your coach, our suites are designed to increase your comfort during labor. Each suite is also fully equipped to help ensure a safe delivery and outstanding medical care for the first hours of your baby's life.
If you require a Cesarean section, we also have surgical suites dedicated to women's services, so you will be able to deliver your baby in an operating room located right in our maternity unit.
Natural Birthing Suite 
Jordan Valley Medical Center has 3 Natural Birthing Suites. These new suites are designed for women who want to experience natural child birth and have an "at-home" feel. It includes a variety of activities as well as in-suite amenities including:
Jetted Tub & Hand Held Shower Head
CUB (Comfortable Upright Birthing Chair)
Birthing Ball/Peanut Ball
Rocking Chair
Walking & Moving About are Encouraged
Partner Support with Massage and Counter Pressure Instructional Guides
Sitting Area with Essential Oils Diffuser
Postpartum
After your baby is born, you have had time to recover, and we know that your baby is doing well, you will move to another private room in our women's center. Nurses in the postpartum unit provide couplet care, where the same nurse takes care of both you and your new baby.
Rooming-in
We encourage mothers to keep their new babies in their rooms as much as possible. Rooming in gives families time to bond and helps new parents learn how to care for their infant with the professional assistance of our nursing staff. We also offer in-room television programming to educate new parents about infant care.
Our well baby nursery is available for mothers who want to rest without their baby in the room or who are not able to care for their newborns. Our Level III NICU (neonatal intensive care unit) provides a higher level of care for babies who are sick or who need special medical treatment. 
Breastfeeding Services
We offer lactation assistance for mothers who choose to breastfeed.  All our nurses are trained in lactation and can help you learn the best techniques for feeding your baby and how to be sure your baby is getting enough milk.
Can I Have Visitors in the Maternity Ward?
We know you will want friends and loved ones to share in your joy when you welcome your new baby to the world.  We maintain a family-centered approach and offer flexible visiting hours and comfortable waiting areas for your guests.
Does Jordan Valley Have Infant Security?
Our comprehensive infant security plan is designed to protect our tiniest patients and to help ensure they stay safe in the hospital.
In addition to other security measures, we use a high-tech electronic surveillance system to keep track of each baby. After birth, we place a small monitoring band around your baby's ankle, where it remains until you take the baby home. The band, which is completely safe, transmits an electronic signal to a nursing station and alerts nurses if a baby ever moves too close to a maternity unit exit.
Our Team
A. Douglas Burgett, MD


Christopher Hutchison, MD


Matthew Wilson, MD


Suphithaya Anders, MD


Chadwick Densley, DO
OB/GYN

Janet Eddy, MD
OB/GYN

Angela Judd, MD


David Matthews, DO


Kristen Black, DO


Jane Bowman, MD
OB/GYN
Resources
Having a Baby soon?

If you're pregnant and expecting a baby soon check our checklist. This checklist will guide you through every trimester, post-birth and breastfeeding.