Jordan Valley Medical Center is the First in Utah to Offer Breakthrough Treatment for Patients with Chronic Low Back Pain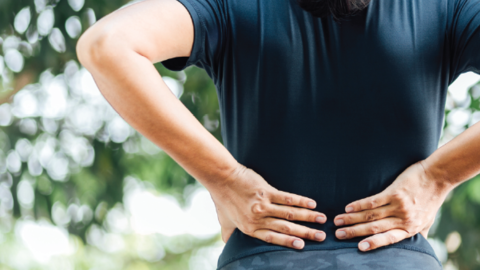 Intracept Procedure – new minimally invasive approach that is clinically proven to relieve chronic low back pain
West Jordan, UT, January 2021 – Jordan Valley Medical Center today announced it is the first in Utah to offer a new approach to provide relief for patients suffering from chronic low back pain (CLBP).
The new treatment is the Intracept Procedure – a minimally invasive, outpatient procedure which targets a nerve located in the bones of the spine (vertebrae). During the procedure, Dr. Kendall Grose, DO advances a specialized probe into the vertebrae and uses radiofrequency energy (heat) to disable the nerve, rendering it unable to transmit pain signals. Intracept takes approximately 60-90 minutes and does not involve an implant or change the structure of the spine.
"For pain originating from the vertebrae, we've never had anything to offer patients suffering from debilitating chronic low back pain that have failed conservative therapy. With the Intracept Procedure, we are embarking on a paradigm shift in how we treat back pain from within the bone. The significant improvement in pain and function demonstrated by the Intracept Procedure provides clear proof of the effectiveness of this treatment," stated Kendall Grose, DO and medical director at the Jordan Valley Comprehensive Spine Center.
The Intracept Procedure is supported by 2 Randomized Control Trials with over 350 patients enrolling in the trials. One trial demonstrated a highly significant difference in pain reduction at 3 months for patients that received the Intracept Procedure compared to patients that received standard care (conservative care). In the other trial patients who received the Intracept Procedure reported a 53% decrease in pain at their 2-year follow up appointments.
"I'm excited that our Comprehensive Spine Center at Jordan Valley Medical Center is the first in Utah to offer this new minimally invasive procedure. Our comprehensive approach to back pain and our commitment to high quality care for our patients is what sets us apart from other spine centers in the area." said Jon Butterfield, Hospital President. 
Intracept is indicated for patients who have experienced chronic low back pain for at least 6 months and have not responded to at least 6 months of conservative care.
Salt Lake area residents interested in learning more about the Intracept Procedure can visit backpainutah.com or call 801-903-5645 for more information.
About Jordan Valley Medical Center
Jordan Valley Medical Center is a 171 bed, Steward Family Hospital that has been serving the West Jordan community for over 30 years. Our community hospital has a full range of comprehensive services including emergency care, orthopedics, cardiac care, weight-loss surgery, physical rehabilitation, women's services, wound care, and cancer services. Jordan Valley Medical Center is accredited by the Undersea and Hyperbaric Medical Society with Distinction for Hyperbaric Wound Care, accredited by the MBSAQIP® as a Comprehensive Center in bariatric surgery with Blue Distinction by the BlueCross BlueShield and is a Certified Stroke Treatment Center. In addition, Jordan Valley Medical Center has the only Level III NICU and Cancer Treatment Center on the west side of the Salt Lake Valley and maintains a Level III Trauma Center. Equipped with the most advanced medical technology and staffed by a team of highly skilled healthcare professionals, Jordan Valley Medical Center is committed to providing high-quality care in a friendly hospital environment. For more information, please visit jordanvalleymc.org or call 801-561-8888. 
# # #